Kittatinny Lodge 5 History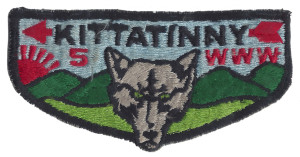 Compiled for and printed in the 70th Anniversary Fellowship Feast Commemorative Booklet.
November 30, 1991
1970: Marked another change and challenge for the lodge; Appalachian Trails Council merged with Daniel Boone Council and would require the respective Lodges, Memeu #125 and Minsi #5, to also engineer a successful merger. At the time, Minsi membership numbered 1154 and Memeu membership numbered 300.
1971: A Lodge merger committee consisting of 8 members from each Lodge would decide on the new name of Lodge #5. It would be Kittatinny, the Endless Mountain. By April on 1971, with the Lodge building 80% completed, the new Ceremonies Circle would be used. August 21, 1971 marked the 50th Anniversary of Lodge #5 with the formal dedication of the new Lodge building and ceremonial circle. October 9, 1971, the first Ordeal candidate (Mike Coleman) and Brotherhood candidate (Kurt Dahms) were received into Kittatinny Lodge.
1973: Would mark the last time the Lodges, known as Area 3-A consisting of Unami #1,'Kittatinny #5, Nentico #12, Nentego #20, Octoraro #22, Ajapeu #33, and Delmont #43 would meet together. Delmont Lodge hosted the conference at Ressica Falls Scout Camp. Dr. E. Urner Goodman joined us as the speaker for our "BOLD OUTLOOKS" Conference in what he considered his home area. We were challenged to strive for Brotherhood among all men, to promote the outdoors and camping spirit, and to take this enthusiasm back to our home units and spread it to whoever we meet. Also in 1973, Lodge #5 was represented at NOAC in Santa Barbara, California by over 30 Lodge members and wives.
1974: Lodges consisting of Unami #1, Kittatinny #5, Octoraro #22, Ajapeu #33, Wunita Gokhos #39, Delmont #43, Witauchsoman (44), Gischigin #223, and Amad' Ahi #542 would align to form Section 5-A. The first Conclave was held at Horseshoe Scout Reservation hosted by Octoraro.
1975: Our Lodge had become a National Standard Lodge by attaining over 50% Brotherhood Membership.
1977: Another challenge faced the Lodge with the pending sale of Camp Shikellamy and the Lodge building. April 1977 would mark the start of the present Ceremonial Circle at Hawk Mountain Scout Reservation. By. November 1977, plans were underway to build a new Lodge building on the remaining north slope camp; this, however was not to be.
June 1978: This was the formal dedication of the new Hawk Mountain Scout Reservation.
Sept. 1979: Kittatinny held a Trade-o-ree to auction the collection of pocket flaps, mugs, neckerchiefs, and memorabilia of the late Russell Gwilliam. Proceeds from the auction were placed in the Russell Gwilliam Memorial Fund for the Minsi Lodge Building of Kittatinny Lodge.
1980: We would see a change which would effect the entire Order. March 13,1980, Dr. E. Urner Goodman, the founder of the Order of the Arrow, the first Vigil Honor Recipient, now walks in spirit with his fellow arrowmen. Dr. Goodman, during his lifetime touched the lives of thousands of scouts arid scouters, his Lenni Lenape name is NUWINGI, which when translated means "The Willing"
A single oak does not make a forest but when the seeds for that oak are scattered, develop and multiply again and again; that forest begins to take form and flourish. The rest of the world may not notice, but the forest in silence remembers the passing of one of its own.
1983: John M. Moore became Lodge Staff Adviser.
1984: David I Sharp came to Hawk Mountain as Scout Executive.
Feb. 1984: Founders Award presented to Charles Bergstresser, Jr. and Earl P. Moyer.
Feb. 1985: Founders Award presented to Wayne Bechtel and Walter Eck.
June 1986: After years of service as the Lodge Advisor, Earl Moyer, was succeeded by Thomas Spencer.
Feb. 1986: Founder Award To William Kellner.
April 1986: Founder Award to Eric Behney.
October 1986: Peter Schlenker resigned as Secretary and Jerry Schearer was appointed to complete the term of office.
February 1987: The Founders Award and a new Lodge Spirit Award was presented to Stanley Smith and Steve Schaeffer at the Fellowship Feast held at Albright College.
June 1987: Under the leadership of Lodge Chief, David Merkt, Kittatinny Lodge hosted its last Section 5-A Conclave.
June 1987 Ceremonial ground breaking for the new O A Ceremonial Circle took place.
Feb. 1988: The Founders Award presented to Tom Spencer. The Spirit Award to John Sikora, Joe Eby, Philip Cambric, Elwood Messersmith & David Merkt. A special award was presented to Frank Michael.
March 5, 1988: The Founders Award was presented to Thomas Spencer at the annual Fellowship Feast.
April 1988: Tom Spencer was succeeded by Stanley Smith as Lode Advisor.
April 1988: The Clan System was officially accepted by Kittatinny Lodge 15.
1988: The National Order Of The Arrow Conference was held at Colorado University and six representatives from our Lodge were in attendance.
In February 1988, the Camp Service Award was presented to Joe Lepore.
1988: The North-East Region is reorganizing and our new section is 4-A, which includes Lodges 5, 18, 30, 33, 44, 54, 223, 343 & 542
Aug. 1988: Richard C. Bennett became the new Scout Executive for Hawk Mountain Council.
In Nov. 1988, the Spirit Award was presented to: Herman Porter, Steve Fegan Jr., Uwe Beck & Steve Fegan Sr.
Kittatinny #5 and the Hawk Mountain Scout Reservation will be the site of the First Conclave of the new Section 4-A on June 9, 10, & 11, 1989.
June 1989: Lodge Chief, Jerry Schearer, hosted the first Section NE-4A Conclave at H.M.S.R.
July 1989: Jerry Schearer, as Summer Camp Chieftain, made Kittatinny #5 and the O/A most visible at this years summer camp.
Sept. 1989: Donald Keller succeeded John Moore as Staff Adviser to the Lodge.
Oct. 1989: Stan Smith, Jerry Schearer, and Steve Fagen received their Vigil Sash.
Nov. 1989: At the O/A Feast; the following awards were presented: FOUNDERS AWARD: Jerry Sullivan; CAMP SERVICE AWARD: Mike Stump, Joe Eby; SPIRIT AWARD: Jody Smith, Scott Rickert, Barry Leister, Bob Bylone Sr.
April 1990: Stan Smith was succeeded by Joe Pietruczynski as Lodge Advisor.
June 1990: The Lodge conducted a 75 Anniversary Rededication Ceremony. We were to use the new Ceremonial Circle (still under construction), however bad weather forced the ceremony to be moved to the Nature Pavillion. Gary Landis succeeded Jerry Schearer as the Lodge Chief.
Nov. 1990: This years Annual O/A Feast was held at the Ringold Firehouse Hall. The following awards were presented: SPIRIT AWARD: Tom Gauker, Chris Kramer, Mike Barner; CAMP SERVICE AWARD: Tom Coyle, Rick Shuman, Dick Shuman.
Oct. 1990: Jody Smith, Chris Gross, Dick Keppler & Bob Bylone Sr. received the Vigil Honor.
April 1991: Our Lodge Secretary Tom Newpher was invited to go to the Soviet Union as a Student Ambassadore.
The Spring Ordeal weekend showed continuous progress on the new Ceremonial Circle. 42 members sealed their bond in the Brotherhood & 110 new Ordeal members joined the Lodge.
Tom Coyle received the Camp Service Award & Jody Smith the Founders Award & the Advisor Award was presented to Rick Tothero, Barry Leister, John Newpher & Martin Leh.
The Lodge Ceremonial Team consisting of Russ Eddinger, Andy Stump, Matt Ziegler & Jody Smith were one of fifty teams to be named National Honor Ceremonial Teams at the competition held at the NOAC.
May 1991: At the O/A Weekend, 41 Ordeal members sealed their bond by becoming Brotherhood members. Work on the new Ceremonial Circle continues.
Sept. 1991: This O/A weekend saw 156 Ordeal members join the Lodge, 26 Brotherhood members seal their bond, and the following members received the Vigil Honor: YOUTHS: Richard Brown, Steve Fegan Jr., Tony Gauker, Jason Hatt; ADULTS: Mike Barner, Wil DeRosiers, Harry Hatt, Clarence Huber, Dick Shuman Jr.