100th Anniversary – Lodge 5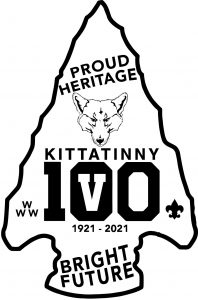 July 1, 2021 will mark the 100th anniversary of Lodge 5 in the Order of the Arrow. The "5" was the original numbering of lodges as they began to be instituted in councils, so we are the 5th oldest lodge in the country.

The founder of the Order of the Arrow, E. Urner Goodman, came to Berks County to install the lodge at Camp Indiandale, near Vinemont, and we were, for a short time, Indiandale Lodge, and the original totem was a bison.

For unknown reasons, the lodge totem was changed shortly thereafter (3-1/2 month on October 25) to the timber wolf, and the name to Minsi Lodge (it is speculated the change was because it aligned better with this geographic area).

When Minsi Lodge 5 merged with Memeu Lodge 125 due to the merger of Appalachian Trails Council with Daniel Boone Council in 1971, the lodge retained the number 5 as well as the wolf totem, as was the custom of the day, using the lowest number when lodges merged.
CENTENNIAL AWARD
Kittatinny Lodge is sponsoring the Centennial Award. Similar to our Lodge Participation Award, members will complete a number of events and activities in a number of categories to earn the award.
A downloadable sheet to keep track of your progress is available [HERE]
EVENTS
A number of special events will highlight this year's Centennial Anniversary.
March 27 – AT Service Project
June 19 – Centennial Service Project #1
Click HERE to register for the Service Project
July 3 – 100th Birthday Celebration @ HMSR
Click HERE to register for the Centennial Birthday Party
Sept 11 – Anniversary Fun Day @ HMSR
December 4 – Anniversary Banquet @ HMSR
MERCHANDISE
Kittatinny Lodge will be producing a number of special 100th Anniversary items. We encourage everyone to use the online store to pre-order your items. Only a limited number of items above the pre-order levels will be purchased for sale through Kittatinny Inc.
PLEASE NOTE: ALL MERCHANDISE IS PRE-ORDER ONLY. Orders will be taken thru July 5, at which time the online store will be closed. We expect all merchandise to be available for pickup after the beginning of August. Limited additional items will be purchased by the lodge for sale at Kittatinny Inc later in the year, but there is no guarantee of availability. If you want items, you should pre-order!
We are using a new online system, so when you place your order, please select delivery method of
Pickup at Kittatinny Lodge – Order of the Arrow.
NOTE: We will not be shipping items.