Appalachian Trail Service Day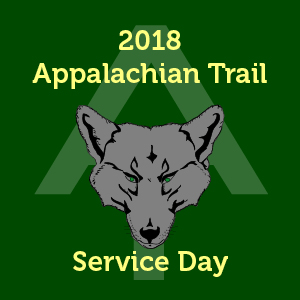 April 7th, 2018
Last year's Appalachian Trail Service Day was an outstanding success,
so we're teaming up with the Blue Mountain Eagle Climbing Club for another
day of service on the trail. This year we'll be helping to update the privy at the
Eagle's Nest Shelter. See you there!
Registration
There's no cost for the service day, but we do need you to register.
Meeting Time & Location
Pennsylvania State Game Lands Parking Lot on
Route 183. Arrive by 8:45 AM.
Gear, Equipment, and Clothing Needed
Bring clothing appropriate for the
weather, work gloves, lunch & snacks, and liquids.
Tools Needed
Shovels, and if you own your own wood working tools
(hammers, saws, cats paws, pry bars, etc.) bring them. We may or may not
need them depending on how far work has progressed on the privy.
We will depart the construction site at 3PM, arrive back at the SGL
parking lot at 3:30 PM.