Conclave – Last Chance !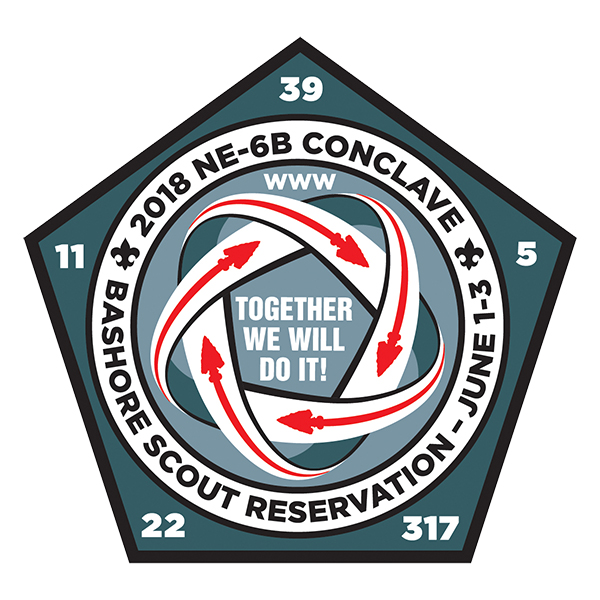 ONE WEEK TO GO …
ARE YOU EXCITED FOR CONCLAVE !!!!
CONTINGENT SPACE
At this point(5pm on 5/25/18), we have 43 of 50 registered in the contingent. We have room for 7 more and would like to fill those spots. I have enabled online registration thru Sunday midnight in an effort to fill our contingent. This is the only way to register now. Do not tell tell people to use the paper form as it will not reach us in time! If you get a new participant to register online, please also ask them to send an email to adviser@kittatinny5.org so we know.  Please actively recruit to fill these spots !
LOCATION
Conclave will be held at Bashore Scout Reservation, 1600 Moonshine Rd, Jonestown, PA.  This link will bring up a Google Map for you to locate it: https://tinyurl.com/BashoreMap. It is about 30 minutes west of Hawk Mountain Scout Reservation on PA Rt 443.
MEDICALS
All Scouts MUST bring a copy of your completed BSA Medical Part A-B. If you do not have a completed medical upon arrival, you may not participate in the event.
NOTE: You will NOT be able to use the medical forms that you put on file for lodge events since we will be at a different camp, which does not have access to them. Forms must have current signatures/dates.
TRANSPORTATION
Most participants will be driving themselves or driving with someone from their unit to this event.
If for some reason you do not have transportation, we need to know ASAP so we can arrange drivers. Send an email to conclave@kittatinny5.org. For those needing transportation, we will see if we can arrange a pickup close to you or, if necessary, arrange a departure from Hawk Mountain S.R.
NOTE: As per BSA policy, you may not drive yourselves or others to this event if you are under the age of 18. We recommend you not drive others to the event if you are under the age of 21 without express parental permission of those you are transporting under 18. Youth Protection also requires no 1-on-1 youth/adult situations, driving or otherwise. A minimum of 3 persons if anyone is transporting youth under 18. All drivers must be properly insured.
SCHEDULE
Arrival at Bashore: Friday, June 1, 2018 – 6-9pm. (Opening show starts at 9, please plan on arriving early so you don't miss anything and can move in and get settled with our lodge contingent.)
Departure from Bashore: Sunday, June 3, 2018 – 11am (or after the Section Meeting).
Friday night is arrival, a welcome show put on by the host lodge, and cracker-barrel. Hot dogs and sauerkraut will be available at arrival.
Saturday morning will be breakfast followed by training. A number of training cells will be available for you to choose from. Please select ones you are interested in and bring information back to the lodge so we can improve Kittatinny. A "Lodge Simulator" experience will be open to 1 adult and 4 youth from the lodge to participate in, by appointment of the Chief & Adviser, and will take up the entire morning's training time. A silent auction will also be held throughout the day on Saturday. After lunch will be numerous activities for you to participate in. There will also be a number of demonstration and exhibits available. Activities may include cross-bows, color run, photo booth, tie-dye t-shirts, dance teams. Games and competitions may include water balloon toss, mini golf, corn hole tournament, Frisbee golf, lodge-ball, volleyball, closest-to-the-pin, horseshoes, giant Jenga, ultimate Frisbee, and more. After dinner, there will be a youth and adult forum to discuss OA Issues and to meet candidates for section offices which will be voted on at Sunday's Meeting. A closing show and fellowship feast will close out the day.
Sunday will be breakfast and the section business meeting which youth will elect 2018/19 section officers.
GEAR
Weekend camping will be in camp tents similar to OA Weekends. We will be staying in campsite Powderhorn. Dining will be in the camp dining hall at Bashore S.R. You will need your Class-A Uniform (with OA Sash) for the event. Class-B (Kittatinny, OA, or Scout T-shirts) may be work at times during the weekend as designated by the Conclave Staff. We can't predict the weather. Bring appropriate clothing and rain-gear to be prepared for anything. A personal water bottle is recommended as you will be out and about participating in activities during the day on Saturday. If you did not pre-order, the Conclave Trading Post will be open for purchasing Conclave merchandise. Bring along money if you plan to shop. The camp store also has snacks available to purchase throughout the weekend.
QUESTIONS
If you have other questions, please feel free to email us at conclave@kittatinny5.org.
Youth may also contact the Chief (Andrew Simmons). Adults/parents may contact the Lodge Adviser (Glenn Piper). Numbers are listed in your copy of Wolf's Tale.