Lodge Centennial Banquet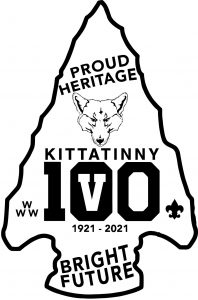 The Lodge Centennial Banquet is less than two months away, and plans are coming together for this "epic" event. In addition to all the memorabilia, memories and fellowship, there are two opportunities to support youth scholarships to the 2022 National Order of the Arrow Conference (NOAC) in Knoxville, TN.
One is through the silent auction. If you own a company, know a company, or have an item or gift certificate that may be successful in an auction, please consider donating it. If you wish to donate a gift card from your favorite place, we can accept that also.
Second, the committee is assembling a program book for the event which will list the history, former chiefs and advisers, award recipients as well as all Vigil Honor members dating back to 1923. Are you one of them? We are offering sponsorships from 1/4 to full page ads to promote your business, unit or to congratulate your OA membership. Also there is an opportunity to write a congratulatory note, similar to youth sport dinner programs.
The sponsorship form can be downloaded and submitted. Please consider helping to sponsor the youth Arrowmen to attend NOAC. Any and all support is appreciated.
Contact Kurt Freer, Advisor Centennial Dinner Program, Promotions, Entertainment and Media Relations Committee. kafreer@gmail.com.