Spirit And Service Award Nominations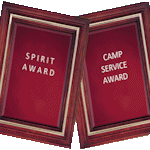 Each year, Kittatinny 5 presents two awards to members of the lodge at the annual lodge banquet.
The first of these is the Spirit Award, which is given by the lodge each year to one or more brothers who have shown outstanding "OA Spirit" in the performance of their lodge duties and lodge membership.It is a mark of distinction reserved for those Scouts or Scouters who, by reason of exceptional service, have made contributions beyond the immediate responsibilities of their position or office during the past year. This award is presented to any worthy member. Click HERE for the Spirit Award Nomination Form.
The second is the Camp Service Award which distinguishes those who have shown outstanding service to the council camp above and beyond the normal lodge camp service. Click HERE for the Camp Service Award Nomination Form.
All lodge members are highly encouraged to submit a nomination for each of these awards in order to best represent those in the lodge who most deserve to be recognized. All nomination forms should be sent to the Council Service Center by Friday February 13th 2015.  Forms for nominations are available on the forms page. Please direct any questions to the Lodge Chief via the message center.