Lodge Leadership Development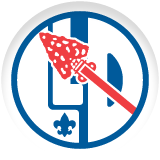 Brothers,
With every Order of the Arrow function comes the need for planning and leadership. The Lodge Leadership Development (LLD) program offers training aimed at improving leadership and teaching about the many facets of the Order. LLD is highly recommended for all active chairmen, advisers, and those thinking of taking a leadership role in the lodge, or just want to learn more about the O.A. and leadership. Please sign up and come prepared to take notes, learn, and share ideas.
LLD will be held on Saturday, February 18, 2017 from 10:00am to 3:00pm in the STEM Building at Hawk Mountain Scout Reservation. Lunch will be provided. There is no cost to attend, but we ask that all participants be courteous and register online for the event for planning purposes.
As soon as the training cell details are known, we will announce them.