2020 Lodge Dues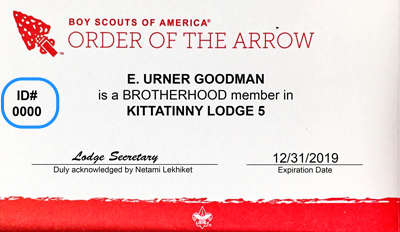 We are almost finished with a wonderful year of fellowship and service. In just over one week we will be moving into the 2020 year, which means it is again the time to renew your Lodge dues.
Dues for the year are just $15. You can pay your dues online on the Hawk Mountain Tentaroo here. The Lodge asks that you pay your dues online by January 31, 2020. If you do not pay by then, you should receive a reminder card in the mail by February 15, 2020. If you do not pay your dues, you can unfortunately not attend Lodge events or wear the Lodge flap. Paying your dues grants you full membership. If you have any questions or need more information, visit the Lodge dues web page.
Kittatinny 5 would like to wish you and your families a Merry Christmas and a Happy New Year!