Lodge Fellowship Feast – Nov 30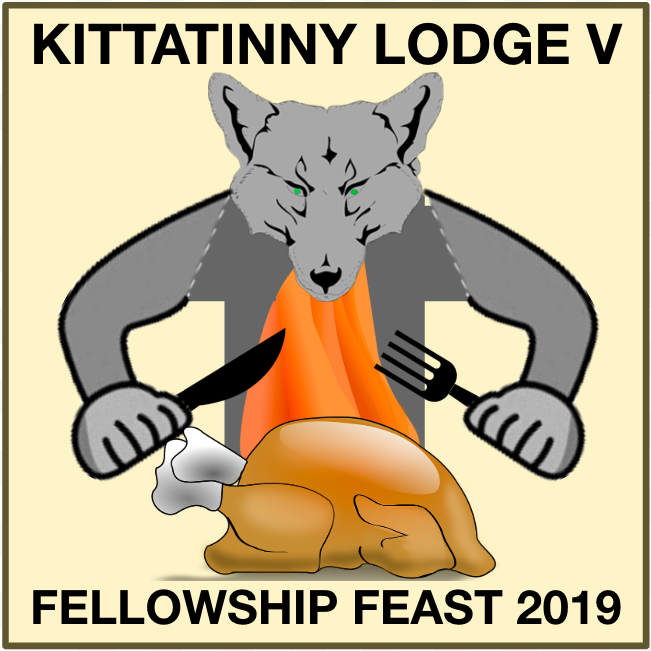 Saturday, November 30, 6:00pm-8:00pm, Landingville Fire Company.
You do not want to miss this year's Lodge banquet !
Open to all current lodge members, family, friends, and guests. Special invitation to Scoutmasters to attend to learn more about the OA (bring your Troop Arrowmen!)
Purpose: Recognition and Awards banquet with presentations and guest speaker.
Meal: Catered dinner by Landingville Fire Company: Beef, Chicken, vegetables, lettuce w/ bacon dressing, cake, drinks.
Guest Speaker: U.S. House of Representatives, Congressman Glen "G. T." Thompson, PA 15th District Rep. Rep. Thompson is a 30+ yr Scouting veteran of the Juniata Valley Council and has served as Scoutmaster, Council Board Member, Council President, and a 2012 recipient of the National Distinguished Eagle Scout Award, and held the position of Lodge Chief in his Council's Lodge as a youth.
Other Activities: Year-In-Review Slide Show — Recognition of our new Ordeal, Brotherhood, and Vigil members — Presentation of Lodge Awards: Founder's Award, Camp Service Award, Lodge Spirit Award — Presentation of two sponsored James E. West awards — Meet and Greet the Lodge Officers — Displays with information about: Our Lodge; OA High Adventure; OA Section, Region, and National Events — Fun and Games. Feast Patch will be provided to the first 140 attendees. The final edition of the standard lodge flap (winter variation) should also be available at that time — be the first to get one there!
Dress: Members – Field Uniform (Class A) and OA Sash; Guests – Business casual
Cost: $25.00 per person. Please register as soon as possible. The deadline is in 2 weeks. We will need to have numbers for our caterer by Nov 22.
Full information and registration link:
https://hmc-bsa.org/event/oa-fellowship-feast-awards-banquet/